Sanctification – Experiencing Salvation from Sin – 109 pp., $15.00 ($10.00 five or more), $5.00 S&H per book; multiple copies by arrangement. eBook – $7.00.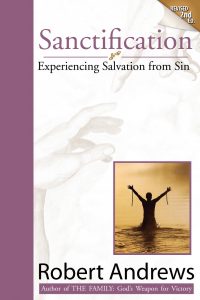 What does God expect of me as a Christian? When I find out what He expects, how can I find the power to do it? What are the results when I fail to do what He expects? How can I mature in my faith in Jesus Christ?
Every earnest Christian asks these questions. At issue is what theologians call "sanctification." Sanctification is progressively realizing salvation from sin—not only being saved and on my way to heaven, but actually experiencing, in this life, Paul's powerful statement in Romans 6:14—"For sin shall not have dominion over you!"
In this little book, My goal is to take the topic of sanctification out of the theology books and bring it right into the middle of practical, everyday life. I believe a careful and comprehensive study of Scripture reveals that the biblical message of sanctification is not one of obligation with an endless string of duties to do to grow spiritually, but a message of joy and hope in what God has already done.
Testimonial for Sanctification – Experiencing Salvation from Sin
"I never thought at the time about putting grace and sanctification together! Never knew they could be put together! To see that for the first time puts so much relief in my heart that I cried REALLY hard as I read your book. Thank God! I CAN be sanctified. I AM sanctified! God continues to give me grace and that alone sanctifies me!" – Sarah P., Oregon