The Family, God's Weapon for Victory – 357 pp., $24 ($20 five or more), $5.00 S&H per book; multiple copies by arrangement. eBook – $14.00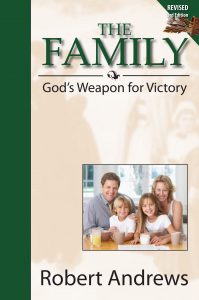 This book is a compendium of family life as taught in the Bible, covering the waterfront from developing a biblical philosophy of family to roles of husbands and wives, the biblical perspective on sex, finding a spouse, and training and raising children. It is an excellent reference work for families as they progressively face each of the issues addressed.
First published in 1995 and based on a family living course I taught in two different Christian high schools over a four-year period, The Family, God's Weapon for Victory has undergone two revisions to reflect my current understanding of the law-grace distinction. It remains a classic in homeschool circles.
The three-seminar DVD series, "Building Kingdom Families," based on the Family book, is also available. Each seminar deals with one of the Units in the book; Building Obedience into Your Child, Guiding Your Child into a Kingdom Marriage, and Building Purity – Teaching Your Child the Power and Purpose of Sex—perfect for the parent who had rather watch a video than read a book. Each seminar is five or six 40 minute messages in length, with an accompanying workbook. The cost of each is $35.00, S&H, $6.00.
For parents involved in home education, I have prepared a one-year, high school, Family Living curriculum based on The Family, God's Weapon for Victory, complete with the book, a study guide for the student, and a teacher's guide for the parent, with all answer keys. A yearly schedule of assignments, tests and suggested extra activities, i.e., the corresponding DVD sessions, is included. It is a lay-down for parents, who wouldn't even necessarily have to read the book; only administer the exams and check that assignments are done. The cost of the book and both teacher and student guides is guides is only $35.00, S&H, $6.00.
Testimonials for The Family, God's Weapon for Victory:
"This book is a bit like Narnia's Aslan—it is not safe, but it is good. Be prepared to have your tender toes stepped on and your cherished assumptions challenged. This is not just another book on the family. Instead it is a book of profound biblical truths and straightforward practical counsel. This book will prove to be of immeasurable help to families in these troubled time in which we live. I highly recommend it."  – Dr. George Grant, Author and Director, King's Meadow Study Center.
"When I read The Family, God's Weapon for Victory, I laughed, I cried, I rejoiced, I repented. It moved me again and again to pray for my children. I read parts aloud to my wife. I committed myself to going through it again, slowly, savoring it with care, applying its lessons to my family. And I determined that the way I serve my family and the goals that I have for my children in God's kingdom must change. If transforming lives is Robert Andrews' aim, this book is an arrow that hits the bullseye!" – E. Calvin Beisner, founding co-pastor, Holy Trinity Church (OPC); National Spokesman, Cornwall Alliance for the Stewardship of Creation.
"This book covers the full gamut of topics important to families; biblical roles for husbands and wives, the role of families in the kingdom of God, sex and lust, finding a mate, raising children, and so forth. All of it is filled with practical, scriptural advice and (brutally honest) examples from Andrews's own life. This is definitely a quality book, one of the best on developing a vision for the family." – D.N., Texas.