We are the children of a Father, the sheep of a Shepherd, the vice-regen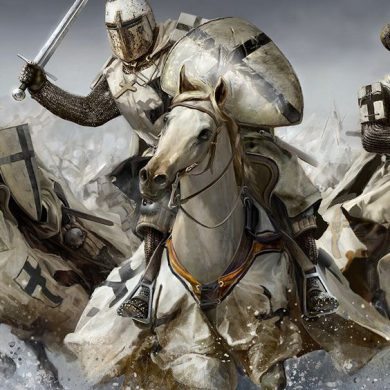 ts of a King, the soldiers in an army, and the employees in a business. These are all metaphors that I have used in past blog postings to illustrate the "big-picture" of the relationship we have with God. 
God has saved us for a distinct purpose of which many Christians are completely unaware. Contrary to popular belief, we were neither saved to escape hell, nor to enjoy eternity with God, although both of those facts are glorious results of that salvation, but they are not why God saved us. 
No, as we have seen, the specific reason why He saved us is to rule for Him over the earth He created. He wants us to rule in a specific way—just as He would—and, in so doing, reproduce others who will rule likewise. Each of the metaphors mentioned in the first paragraph emphasizes a different aspect of my relationship with this God who created me for this "eternal purpose" of His (singular – there is only one) as mentioned by Paul in Ephesians 3:11. 
If I really understood this and were able to apply it to my life, what would that look like, right here, lived out daily on earth, as I fulfilled this purpose of God's? What does it look like to be a child, a sheep, a vice-regent, a soldier, and an employee, all simultaneously? 
Amazingly, God thought of the perfect way to best answer that question. He knew we needed a model, a pattern-man, so we could understand how to go about that mission of ruling. So, He sent His Son, Jesus, to earth in human form, and for 33 years Jesus willingly laid aside His prerogative to live as God. He modeled perfectly how man was originally created to live and rule in His kingdom. Then He died for us to save us from our rebellion against God and to equip us to live and rule just as He had done—in complete dependence on His Father. 
At the heart of this model, Jesus demonstrated by His life His relationship with His Father. He declared, again and again, how He always spoke only His Father's words, always taught only His Father's doctrine, He always did only what He saw His Father doing; i.e., He always did His Father's will. He was the least original man who ever lived!
On the night Jesus died, the conclusion of His prayer in the Garden of Gethsemane was filled with affirmations of His Father's love for Him—even though He knew His Father was leading Him to death on a cross. His whole life was a perfect example of how a man lives out God's eternal purpose.
Most of us haven't understood this. When Jesus says, "I and my Father are one" (John 10:30) and "He that has seen me has seen the Father" (John 14:9), we think He is claiming to be living as God—as I and many others have believed and taught—so how could He be our model?
However, He had laid aside His prerogative to live as God when He came to earth (Philippians 2:6, 7). While He was here. He lived fully as man, living as God intended man to live. He was a perfect reflection of His Father, just as man was created to be! In being so, Jesus shows us our future. He is our "big brother," leading the way: "…that He might be the firstborn among many brethren" (Romans 8:29). Our reflection of God, unlike our Big Brother's, is never perfect while we live in these sinful bodies, but God is gradually "conforming us to the Image of Christ," who is "the image of God."
God is not calling us to greater commitment before we are ready to live this life of ruling in His kingdom. In Psalm 110:3, God tells Jesus, after He has ascended to Heaven and received His kingdom at the ascension, that "Your people shall be volunteers in the day of Your power."  God is already at work in our lives, whether we are aware of that fact or not. He is already getting us ready to receive that kingdom ourselves in the "mop-up" action against Satan's guerilla forces. We will not be draftees who must serve,  but volunteers who eagerly can't wait to serve, because it will be "in the day of Your (Jesus') power." What does that mean?
---
Jesus' last words words before He ascended to Heaven to receive His kingdom were, "But you will receive power when the Holy Spirit has come upon you, and you will be my witnesses in Jerusalem and in all Judea and Samaria, and to the end of the earth" (Acts 1:8).
This phrase, "when the Holy Spirit has come upon you," is the same "power" referred to in Psalm 110:3. It is the word, dunamis, in the New Testament, defined in Thayer's Greek Dictionary as, "the power consisting in or resting upon armies, forces, hosts." This power is essential for us if we are to fulfill our destiny and rule in the kingdom—the same kingdom Jesus was about to receive and then delegate to us when He spoke those words, just as Daniel had prophesied. 
Jesus tells us in John 7:37-39, "'If anyone thirsts, let him come to Me and drink. He who believes in Me, as the Scripture has said, out of his heart will flow rivers of living water.' But this He spoke concerning the Spirit, whom those believing in Him would receive; for the Holy Spirit was not yet given, because Jesus was not yet glorified." 
So, now post-Pentecost, we are living in "the day of His power," as Psalm 110:3 tells us. When we believe this, and know, by faith and not by sight, that the same Holy Spirit who came upon and empowered Jesus to rule at His baptism is now living in and empowering us in the same manner, the river of living water begins to flow. It will become a torrent that cannot be headed. Wherever we go, the river is flowing, and whomever we meet is inundated with the love, joy and peace that the Holy Spirit naturally and unconsciously produces! We have become truly dangerous to the enemy! 
What will happen when all God's people get this message and believe it and the river begins to flow in their lives? Wherever authority exists, it is an opportunity for the kingdom to come there. He has ordained three specific institutions that are, along with less defined authority structures such as the marketplace, the vehicles through which the "kingdom comes on the earth as it is in Heaven," in answer to Jesus' model prayer.  Next week we will begin to investigate how the kingdom comes in each—the family, the church, and the civil government.