The beginning of a New Year is considered by most of us to be a perfect time to "make a fresh start;" " beg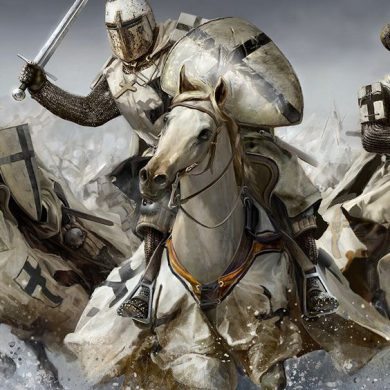 in again;" or "turn over a new leaf." I am sure making those resolutions can be valuable and very profitable experiences, and there is nothing intrinsically unchristian about those ideas. However, some time ago I found myself growing increasingly uncomfortable with the whole idea of New Year's resolutions. As I thought about it, I figured out why.
Obviously, no one is perfect, and, as we begin a new year, it seems to be a logical time to take stock as to where we stand on the road to holiness we have been traveling since we became Christians. Realistically, we can see that there are positive qualities we lack and negative habits to be eliminated. If we can't see any such pockets of sin in our lives, Paul's prayer in Ephesians 1:18 is appropriate: "O Lord, open the eyes of my heart .. . that I may see . . ." We don't as yet see ourselves clearly.
So far, so good. Paul's prayer, sincerely prayed, puts the New Year's Resolution process on track and moving in the right direction. Being self-aware of our own sin is not only necessary to become a Christian but a continued, increasing awareness of our sin, ironically, leads to spiritual maturity. However, at this point the whole New Year's Resolution enterprise, more often that not, goes off the rails, causing my uneasiness with the whole idea. How so?
Making New Year's resolutions focuses our attention on: 1.) what we see as the more egregious shortcomings in our lives, and then 2.) encourages us to step up to the plate with a new determination to work harder at remedying those shortcomings.
So, what's the problem? Nothing whatsoever with number one. Self-awareness is always a positive thing and so also is knowing that forgiveness for my sin is not the same as freedom from my sin. We remain wicked sinners as long as we remain in these bodies of corruption, but we are now, since the cross, also simultaneously forgiven, perfect saints in God's eyes, with the imputed righteousness of Jesus Christ. Remembering that hard-to-grasp, counter-intuitive truth at the beginning of every new year would be a tremendous asset to spiritual growth.
No, the problem does not lie with the first aspect of New Year's resolutions, an awareness of our need to change, but completely with the second: when we see our sin, what do we then do about it? The traditional way is to mount a full scale attack on our now-recognized sin(s) by goal setting, discipline, self-control, implementing a system of self-punishment/self-rewards, etc.
At the root of this approach to New Year's resolutions is a numbing, debilitating, feeling of dissatisfaction, real or imagined. It is directed at us from either parents, spouses, teachers, coaches, bosses or, most likely, ourselves. We feel inundated with helplessness and immobilized. Ultimately, of course, we assume they all reflect what God must think of us as well. We assume that God is not pleased with how we are currently living our lives and wants us to change by diligently working on overcoming our besetting sins, hence, the New Year's resolutions—a valiant attempt to please God by what we do.
This assumption could not be further from the truth.
The truth is that God is completely, without reservation, perfectly pleased with you, right now, squarely in the midst of committing your most uncontrollable, besetting sin! How can that be?
Here's how: at the cross, "God was in Christ, reconciling the world (including you!) unto himself, not imputing their trespasses unto them (including yours!)." He (God the Father) made Him (Jesus)  to be sin for us, who knew no sin; that we might be made the righteousness of God in Him" (2 Corinthians 5:19, 21). How could Daddy not be satisfied and pleased with the righteousness of Jesus Christ that you currently possess?!
The "Big Switch" has gloriously occurred; in time, at the cross 2000 years ago, Jesus took away all your sin, and gave you all His righteousness. Fact; done deal; case closed.
Do you believe it? Whether you do or not, that is what happened: "It is He who is the atoning sacrifice for our sins, and not for ours only, but also for the whole world's," including your's (1 John 2:2). Refusing to believe that is counting the cross "of none effect" (1 Corinthians 1:17), maybe unintentionally or unconsciously, but doing so just the same.
And He died, not reluctantly, begrudgingly, or because it was "the thing I ought to do, need to do, and should do to save everyone." No! He loved you, no matter what you have done, are doing now, or will ever do. His love is "without reason." In the midst of your personal sin, He says to you, "You are so adorable and precious to me. There is no 'shadow of turning' in my love for you" (James 1:17).
This is divine love, agape, only found in God, a love without reason, a love in no way conditioned on anything in you, the loved one, either good or bad. This divine love is totally beyond our grasp, but the message of the Bible is that it is gloriously true!
So, why would you want to make New Year's resolutions if God is perfectly satisfied and even pleased with you just like you are, today, December 31?
For only one reason: to remember.
Hence, the answer to the question that forms the title to this posting: The only New Year's resolution for you to make on January 1 is to remember every day, no matter the circumstances in which you find yourself, that these facts are true of you: "God loves me and has eagerly forgiven all my sin, and I can trust Him with my life like a little child trusts his Daddy." Hallelujah!
However, "remembering" is not the end game. Daddy will not leave His little child a little child. Remembering these glorious truths while resting in Daddy's arms, trusting Him with everything, is only the beginning. Next week is the end game!