The most vicious, destructive and unrelenting dragon that all Christian men are called to slay is the dragon of pornography. It lurks in magazines, advertisements, television an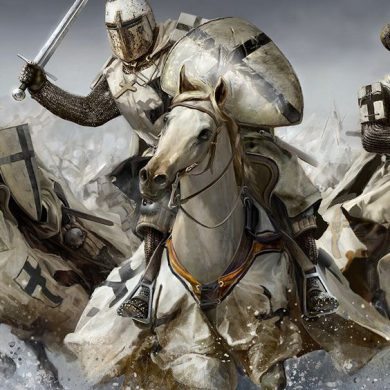 d particularly on-line, waiting to strike at any time. It has the power to destroy marriages and has even been a handle Satan has used in men's lives to drag them into heinous crimes. Ted Bundy was a notorious serial killer in the 1970's, and the admitted slayer of over 30 young women and possibly many more. He confessed to James Dobson, in an interview just before he was executed in 1989, that it was pornography that was the initiator and driving force behind his murderous spree (Catholic News Agency, June 21, 2017). 
So, pornography is not a casual matter, a minor sin that "we all commit occasionally" so that "it's not that big a deal." No, it's serious business, as Bundy's life illustrates. It is also adultery, unfaithfulness to our wives, and all males are guilty. 
The most pious among us may have white-knuckled it well enough so that they have refrained from the actual, visual viewing of pornographic material. However, the dragon has attacked us all in our minds and we all have fallen, even the most pious, because all of us have a view of sex that is warped as a result of the fall. Women, who were also "in Adam" when he fell, are affected as well. Just as men lust after women who are not their wives, women (maybe secretly and unconsciously) lust to be lusted after by men who are not their husbands! 
Christians have long known that pornography is deadly to spiritual life, and the church has proposed various methods of fighting that dragon, such as accountability partners, sexual addiction classes, etc. These are primarily opportunities to encourage us to have more self-discipline. But is not self-control the last fruit of the Spirit mentioned by Paul in Galatians 5:22, 23? What then can I do to get the Holy Spirit to produce more of this fruit of His in my life? 
Some 15 years ago our church had a men's retreat attended by some 50 men from around the state, both from our church and other men we had known in the past. At the time, we were just learning about strength in the midst of weakness, leadership in service, life in death and righteousness in sin—the mysterious, counterintuitive, seemingly impossible way our loving Heavenly Father always operates. 
We had no speaker at the conference, but told the men that they were the speakers, and we wanted them to speak only from their weakness and failure and not from their strength and success—how they had failed, what they had learned, what they were struggling with, etc. They did so, powerfully, sharing about struggling marriages, wayward children, etc., and we found ourselves looking at our own failures in each of their situations. Then we all prayed for each other together.
The men were really being honest and sharing openly, and the discussion got to pornograpy, because that dragon is always lurking everywhere, in every man's life, waiting for an opportunity to strike. The men eagerly shared their struggles in that area, some with tears, and we had a glorious time of prayer together. Right in the middle of this wonderful time the Lord spoke to me. Looking back over those 15 years I can see that He was about to change my life.
---
Christianity is a team game; it's not an individual sport. It can't be played successfully alone. There is a way the Lord comes to dwell in the church corporately that He does not with individuals. Yes, He lives in our hearts individually, and that is equally and vitally important, but "Where two or three are gathered together in My name, I am there in the midst of them" (Matthew 18:20), and that experience of the collective body of Christ meeting together is a very different and necessary one. 
I sensed His presence that day as 50 of us were gathered together at the retreat, right in the middle of this time discussing pornography, spoke to me said, "All right, Andrews, it's your time." 
I had gotten into prornography as an early teen in a neighbor's attic and this fascination for the mysterious, alluring female body only grew in public school, as all my friends were making the same discovery. All kinds of lascivious publications, and in college, movies that flooded my fraternity house, were always available to me, and even after becoming a Christian, the only change was the new waves of guilt that now flooded over me. 
The damage had been done. Even marriage, while assuaging the constant pressure, didn't remove the dragon's claws from me. Traveling up and down the West coast as a leader for a national Christian evangelistic organization, I would constantly browse through the "adult" magazines available in the airports.
At the men's retreat, at 65 years old, I was a legitimate "dirty old man." In the new internet age, I had graduated to internet porn, and had indulged just before the retreat! 
I stood and told this story to the men. I had an old friend from college who traveled to Moses Lake, Washington, from Newport, Rhode Island, to make this retreat, and he said, "We are learning to 'open our kimonos!'" The tears and prayers continued to flow.
A pastor who was there as a guest of one of the participants, came up to me after I had shared and said, "You can't do that! As the leader of this retreat, don't you see that you are giving all these men license to get into pornography? You will be known as the 'pornography pastor!'" 
He didn't understand, and I told him as much. Men were being set free from their addiction, and I was among them.  Although I know that the dragon may grab me and I may fall off the wagon today, since that time, some 15 years ago, he has not been successful in doing so even once. 
This pastor didn't understand what we are constantly discussing in these posts: the only way to be set free from besetting sins is to embrace them, walk in the light with all those around you about them, and constantly rejoice in your forgiveness for them. What's wrong with being known as the "pornography pastor," anyway?! Hallelujah! It means I'm a sinner just like you, I understand, and you can talk to me about it.
I make it a point to tell my story about my pornography struggles whenever it is appropriate. I have learned experientially that Paul was right when he said, "Therefore most gladly I will rather boast in my infirmities, that the power of Christ may rest upon me" (2 Corinthians 12:9)